A Spooktacular Guide to Decorating your Home with Halloween Inflatables
Posted by Witches of Halloween on
OUR GUIDE DECORATING YOUR HOME WITH HALLOWEEN INFLATABLES
Halloween is a truly magical time of year. In Australia, the season conjures images of Jack o'Lanterns flickering in doorways, pumpkins in window sills and ghosts n ghouls ready to come out to play.
As Halloween celebrations become more popular each year, you're going to want to keep on top of the latest trends in decorating.
If Halloween is your favourite holiday, chances are good that you already have an impressive collection of trinkets, home accessories, and yard ornaments. Now it's time to step it up, and get some new inflatables or air powered blowers that will keep bringing eerie screams and frights year after year.
Inflatables, you say? What are they, how do they work and where can you get them? Read on!
WHAT ARE INFLATABLES?
Hint: Air Powered. Inflatable yard decorations are very popular in Australia, particularly around Christmas and Halloween. Made from durable, waterproof nylon or other synthetics, these brightly coloured, themed decorations bring the 'WOW' factor to your home, and are perfect to display inside or outdoors.
In most cases, a tiny motor is located at the inflatable's bottom and is responsible for pumping air into the device. The display is inflated by a motor when it is connected to a power source. Although smaller inflatables may be secured with weighted bases in the case of high winds, bigger ones will need to be held in place using ropes and posts.
WHY USE INFLATABLES?
A great decorating option, inflatables require minimal effort to put up, but can totally transform your yard or home into a Halloween wonderland that everyone will be talking about. Inflatables come in a wide variety of styles, characters and colours, so there's no shortage of themes you can create. Most come with LED lights to help them attract some serious attention at night, and ropes and stakes to secure them if they're outdoor decorations.
THIS SPOOKY SEASON'S BEST RANGE
Witches of Halloween has a spooktacular range of inflatables to create whatever fabooolous look you're going for (see what we did there?).

Want to turn your yard into a graveyard setting? We've got you covered with this Inflatable Ghost and Tombstone with Shaking Motion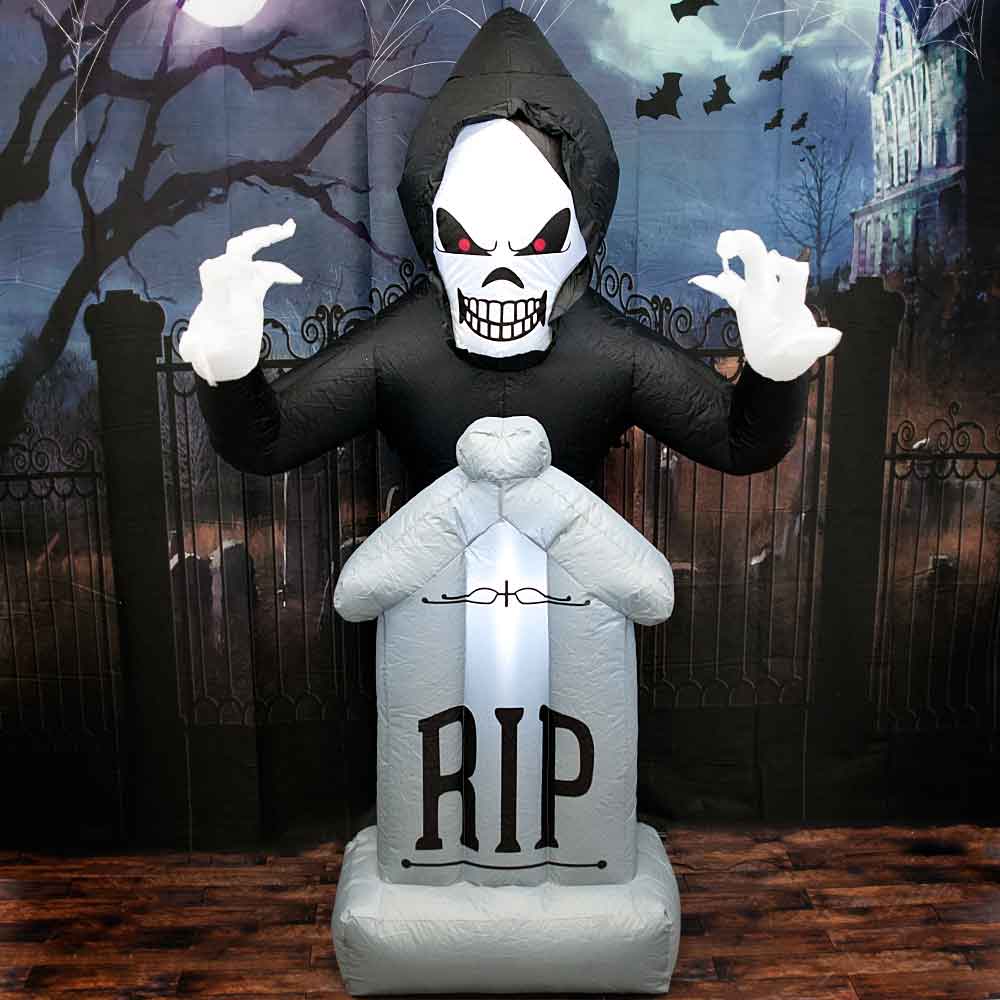 Team it with this trick or treat monsters, witch legs in a cauldron or skeleton pumpkin and you'll be the talk of the neighbourhood. With minimal effort required to create the perfect scene that would also look brilliant at night.
OUR TOP TIPS FOR DECORATING WITH
INFLATABLES
The best way to choose which inflatables you need and where to display them is by creating a decorating plan. Decide on the areas of your home or yard that you want to use for your display and measure the space. This is particularly important if you want to display more than one item to make sure there's plenty of breathing room around each one so they can fully inflate without touching your landscaping or furniture.
The general rule of thumb with inflatables is don't overcrowd them – they look so amazing that you'll want to give them the space they need to really impress. And any trees or bushes that are too close to the display outdoors might poke holes in your inflatables and potentially result in damage – and no one wants that.
Check the inflated measurements of the items you're using to make sure they will fit. Always have a trial run before the big reveal day to make sure it looks exactly the way you want it.
HOW TO DISPLAY INFLATABLES
Your display will need to be close to an electrical outlet as you need to plug in the inflatables. An extension cord will also work, but ensure the connections are weatherproof or away from all moisture sources if you are using them outdoors.
Creating your display:
Once you have decided on a decorating plan, remove your inflatable from the box (keep it for storage when it's time to pack up).
Remove any packaging materials, tape or ties and spread the deflated decoration carefully out on the ground.
Make sure you have all the ropes and tethers you'll need to secure your inflatables within reach before you inflate it.
Now it is time to inflate!
All inflatables come with a built-in motor for self-inflation, but before you plug it in:
Check for any obstructions and that any zips or vents are closed;
Ensure there is no moisture or water around the motor;
Make sure the air intake is clear so the fan doesn't overheat.
Next, plug your inflatable in and turn on the power. Depending on the size, inflation will take a few minutes. If yours is a large outdoor size, once the display is fully inflated you'll need to secure ropes to the ring grommets on the sides of the inflatable. Then hammer your stakes into the ground and secure the ropes to them.
Most manufacturers recommend unplugging inflatables after eight hours, which can help to prolong the life of the motor. Deflating is just as easy; simply unplug it and it will gradually expel all the air. Fold it up as best you can, and get it ready to store.
HOW TO CARE FOR INFLATABLES
Inflatables are usually made from waterproof nylon and are pretty durable. Accidents can happen though, and if your item does rip or tear, you can get patch kits online. In most cases though, you can sew the tear with a fine needle and thread, or even use clear or duct tape to repair the tear.
If your inflatable is coloured, make sure you use clear tape, or repair it from the inside so it's not visible. A quick wipe with a damp cloth and some mild soap will clean away any dirt or blemishes, but make sure it's fully dry before you pack it away to prevent the growth of mould or mildew.
HOW TO STORE INFLATABLES
Once you've made the difficult decision to pack up your Halloween display (and no judgement here if it's still up well into November ...), you need to make sure your inflatables are clean and dry. If you kept the boxes they came in, that's a great way to store them. You can also store them in stackable tubs which tend to take up less space, which means more decorations!
If you're using tubs, it's a good idea to label them so you know what's in each one for when you set it all up again next Halloween. And it's essential to keep all the ropes and ties together with each inflatable. When you're packing away, don't be sad because Halloween is over – you can take some pride in the fact you've just mastered the art of using show-stopping inflatables.
Check out our inflatables and keep the spooky times rolling!
---